Cultivating Compassion: 2021 Virtual Creative Aging Conference
The Frye Art Museum and Centrum present the 2021 Creative Aging Conference: Cultivating Compassion, a virtual program designed for lifelong learners and professionals from diverse disciplines. Rooted in a discussion of compassion and empathy, the conference will focus on how we care for ourselves, each other, and the natural world. Speakers from multiple disciplines and life experiences will offer perspectives on the many ways we seek and build connections across time, culture, and language. This year's keynote speaker is James R. Doty, Senior Editor of The Oxford Handbook of Compassion Science and the author of Into the Magic Shop: A Neurosurgeon's Quest to Discover the Mysteries of the Brain and the Secrets of the Heart. He will appear in conversation with Dr. Kristoffer Rhoads, a neuropsychologist at UW Memory and Brain Wellness Center and an Associate Professor of Neurology at the University of Washington School of Medicine. Today's program also features a talk by photojournalist Hannah Reyes Morales on her "Living Lullabies'' project on families' nighttime rituals; a conversation on food and memory between singer/songwriter Michelle Zauner (of Japanese Breakfast), author of Crying in H Mart, and food writer Sara Dickerman; and a conversation on the "Grandmother Effect," featuring Seattle Times environmental reporter Lynda V. Mapes, author of Orca: Shared Waters, Shared Home in conversation with Jay Julius, co-founder/president of the Indigenous non-profit Se'Si'Le and former Chairman of Lummi Nation.
Co-presented by the Frye Art Museum & Centrum.

$17.00

ISBN: 9780399183645
Availability: On Our Shelves Now
Published: Avery - February 14th, 2017
---

$26.95

ISBN: 9780525657743
Availability: On Our Shelves Now
Published: Knopf - April 20th, 2021
---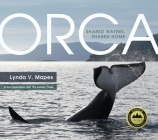 $34.95

ISBN: 9781680513264
Availability: On Our Shelves Now
Published: Mountaineers Books - May 18th, 2021
---
Location:
Virtually hosted by the Frye Art Museum
Date:
Friday, December 10, 2021 - 9:00am