Anti-Inflammatory Eating for a Happy, Healthy Brain: 75 Recipes for Alleviating Depression, Anxiety, and Memory Loss (Paperback)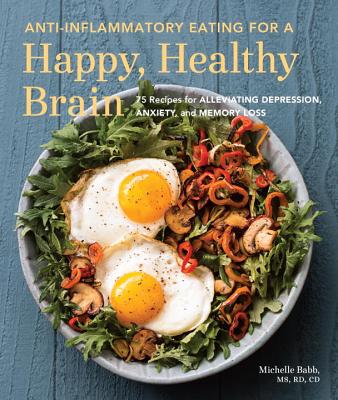 Staff Reviews
---
This is one of the most approachable cookbooks I have ever used. There are no long drawn out anecdotes about the author's romance with that really expensive, hard-to-find ingredient, and no over glamorized photographs of impossibly perfect baked goods on rustic pieces of slate. The book introduces itself by explaining the anti-inflammatory eating regime and covers a list of commonly used ingredients to keep around for snacking and cooking alike. There is also a sample meal prep schedule if you are looking to create new habits and adopt the diet full time. The recipes themselves are organized by meal type like most other cookbooks. The part I find most useful is the difficulty meter at the top of each recipe so I can choose a meal to match how much energy I have in that moment. I love making the fish parchment packets and the breakfast taco salad!
— From
Katie
Description
---
New from the author of Anti-inflammatory Eating Made Easy, this cookbook shows how to use diet to improve your state of mind. The latest research shows the connection between a healthy gut and a healthy mind. Inflammation markers are frequently found in the blood of people with anxiety and depression, proving a food-mood connection. In this book nutritionist Michelle Babb shows how reducing that inflammation and balancing the flora in the gut results in a healthy mind. Based on the success of her clients, Babb first explains the science behind this eating plan, then delivers 75 tasty recipes that range from simple to easy gourmet that will satisfy your taste buds, your microbiome, and your mood.
About the Author
---
MICHELLE BABB, MS, RD, CD, is a registered dietitian specializing in mind-body nutrition, weight management, and inflammatory digestive disorders. She is also PCC Cooks instructor who teaches classes about the anti-inflammatory diet. She holds a Master's degree in nutrition from Bastyr University and has also trained at the Center for Mind Body Medicine. When she's not in the kitchen, Michelle enjoys running, kayaking, sailing, and traveling. She lives in Seattle,WA.
Praise For…
---
"So rich and delicious it will make your stomach and your brain happy."
—425 Magazine

"Clean, green, and versatile as heck."
—Extra Crispy

"Michelle Babb's new book!"
—West Seattle Blog  

"The easiest way to sneak more anti-inflammatory foods into your diet."
—Prevention  

"Easy anti-inflammatory foods."
—Q13 Fox  

"Recipes to delight vegans, vegetarians, and omnivores alike!"
—Feed Feed 

"[Recipes] that not only satisfy the taste buds but your microbiome and your mood too. Oh, and did we mention they're also super easy?"
—MyDomaine

"The little things we can do to take our mental health into our own hands."
—Real and Vibrant

"How to use diet to improve your state of mind."
—Addicted to Saving    

"Discuss[es] health and sustainability issues."
—The Stranger

"I love the way Michelle's unique, holistic perspective using nutritional therapies, and yet an anti-diet approach, empowers us to heal ourselves naturally. She's a woman after my own heart."
—Root & Revel