Coventry: Essays (Hardcover)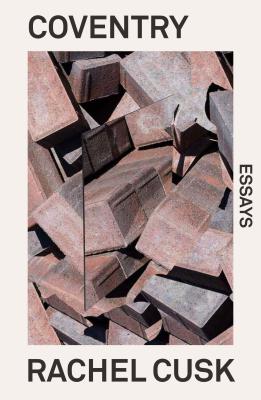 Staff Reviews
---
Fresh off the acclaim of her formally inventive Outline Trilogy comes Rachel Cusk's new collection of essays and criticism, Coventry. Much of what was to love in those novels—the dazzling and precise diction, the formal openness, the marveling in enigma and complexity—is also found in these essays. Whether addressing the relationship between driving and subjectivity or praising the "absolute clarity amid the veils of time and language" of Natalia Ginzburg's fiction, Cusk is sharp and erudite. As with her novels, Rachel Cusk proves to be a voice you want by your side in the maelstrom. -Sam W.
— From
Winter Gazette 2019
Description
---
NPR's Favorite Books of 2019
Rachel Cusk redrew the boundaries of fiction with the Outline Trilogy, three "literary masterpieces" (The Washington Post) whose narrator, Faye, perceives the world with a glinting, unsparing intelligence while remaining opaque to the reader. Lauded for the precision of her prose and the quality of her insight, Cusk is a writer of uncommon brilliance. Now, in Coventry, she gathers a selection of her nonfiction writings that both offers new insights on the themes at the heart of her fiction and forges a startling critical voice on some of our most urgent personal, social, and artistic questions.
Coventry encompasses memoir, cultural criticism, and writing about literature, with pieces on family life, gender, and politics, and on D. H. Lawrence, Françoise Sagan, and Kazuo Ishiguro. Named for an essay Cusk published in Granta ("Every so often, for offences actual or hypothetical, my mother and father stop speaking to me. There's a funny phrase for this phenomenon in England: it's called being sent to Coventry"), this collection is pure Cusk and essential reading for our age: fearless, unrepentantly erudite, and dazzling to behold.
About the Author
---
Rachel Cusk is the author of Outline, Transit, the memoirs A Life's Work, The Last Supper, and Aftermath, and several novels: Saving Agnes, winner of the Whitbread First Novel Award; The Temporary; The Country Life, which won a Somerset Maugham Award; The Lucky Ones; In the Fold; Arlington Park; and The Bradshaw Variations. She was chosen as one of Granta's 2003 Best of Young British Novelists. She lives in London.
Praise For…
---
"First-rate, marked by candor and seriousness . . . [Cusk] is a poet of split feelings. Her inquisitive intelligence is the rebar that, inside the concrete, holds the edifice upright . . . I have quoted Cusk a great deal in this review. There are more of her words here than mine . . . But sometimes you just need to get out of the way." —Dwight Garner, The New York Times
"[Cusk's voice is] imbued with an authority that is all the more powerful because it is diffuse and flexible, aware of its limited perspective and willing to be measured against those of others . . . Cusk, like the best artists, has renovated her work from its deepest interior—the self—transforming her private crises into an expansive aesthetic vision." —Meaghan O'Gieblyn, The New York Times Book Review
"Cusk is a brilliant, perspicacious social critic whose crisp prose is only matched by the elegance of her insights . . . [Coventry] is a daring return to her own voice . . . Luminous." —Cat Zhang, Slate
"[Cusk] writes like someone who has been burned and has reacted not with self-censorship but with a doubling-down on clarity. She is blazingly intelligent, a deep, tough-minded thinker . . . [whose essays] are at once freewheeling and exquisitely precise." —Heller McAlpin, NPR
"Fans of Cusk's prose and authorial perspective, her cutting wit and inimitable turns of phrase, will enjoy these essays . . . Bringing these writings together under one roof, so to speak, showcases Cusk as one of the 21st century's great novelist-essayists." —Donal Harris, Los Angeles Review of Books
"As in her novels, Cusk's prose in these essays is a tight guitar string or a wire from an espalier. Her descriptions . . . have a bewildering precision, a feeling of painful truthfulness." —Claire Jarvis, Bookforum
"Cusk's unsparing ability to see links between her own experience and broader literary and historical perspectives has always elevated her personal writing above mere memoir, and this collection cements her reputation as one of the most fierce and elegant chroniclers of how we live now." —Stephanie Merritt, The Guardian
"The essays [in Coventry] chip away at Cusk's preoccupations—the tenuous agreements of civility, the tension between family life and the creative process, the making of a home—from multiple angles in order to chisel towards some sort of truth . . . As the language in her work becomes more streamlined, Cusk's voice in Coventry resonates loud and clear." —Mia Levitin, Financial Times
"Fiercely intelligent, with enviable prose that is at once luminous and precise . . . If residing in 'Coventry' has allowed [Cusk] to write with such devastating complexity, I hope she stays there." —Kathryn Maris, New Statesman
"Rachel Cusk has already established herself as one of the more profound fiction writers of her generation . . .[Coventry] uses her established approach to writing, turning her insightful eye on the everyday and taking in-depth looks at what the vast majority of us would generally give little thought. It's this type of deep-dive into seemingly otherwise mundane topics that makes Coventry both engaging and deeply troubling, forcing us to face the vast uncertainties unacknowledged within our daily lives." —John Paul, Spectrum Culture
"[Cusk's] fiction and non-fiction alike is relentless in its commitment to exploring the painful struggle for personal truth, whatever the cost . . . Undeniably smart." —Nathan Whitlock, The Star (Toronto)
"The word that keeps coming to mind when reading this collection of Rachel Cusk's essays is 'formidable.' It describes her intelligence in writing about everything from literature to parenthood." —John Self, The Irish Times
"Opening up the deep crevices of everyday life's paradoxes, myths, and more, Cusk pulls apart the stories we tell to reflect on the mess underneath." —Maggie Taft, Booklist (starred review)
"Readers of the author's first-person fiction will be pleased with the acutely observant narrative voice that characterizes these introspective meditations on family, motherhood, marriage, and community . . . An eloquent and engrossing selection of nonfiction writing that will enhance Cusk's stature in contemporary literature." —Kirkus (starred review)
"Cusk turns her perceptive gaze and distinctive voice to a variety of topics in her arresting first essay collection." —Publishers Weekly
"Coventry . . . uses [Cusk's] established approach to writing, turning her insightful eye on the everyday and taking in-depth looks at what the vast majority of us would generally give little thought. It's this type of deep-dive into seemingly otherwise mundane topics that makes Coventry both engaging and deeply troubling, forcing us to face the vast uncertainties unacknowledged within our daily lives." —John Paul, Spectrum Culture

"Impressive and wonderful. Rachel Cusk sees the truth where the rest of us can only make out shadows. Coventry is Cusk's theory of forms." —Lauren Elkin, author of Flâneuse